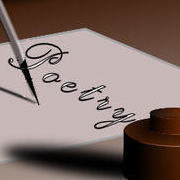 Poetry Writers
About This Club
A place for Poets to discuss their craft
---
What's new in this club

Attention any German speakers! I've encountered a remarkable poem by one of Germany's leading poets of the past. The word is "After". Oddly, the online translation sites translate the word as if it means the same thing in English, that is, as "after." However, through all my separate, independent research I find only one (and only one!) meaning for the German noun "After" -- and that is anus. Interestingly, in the context of the poem, it makes total sense. But are there indeed different meanings for the German noun "After"? Thanks in advance

I just stumbled upon this video, and oh my god I never thought I'd ever find a 12th century Chinese scholar to be so relatable. If any of you in this club are cat owners, I hope you enjoy these poems.

1

I can feel him. Such an impressiv poem, such a good translation. Muha

2

I only ran into this poet yesterday, thanks to a Poesie schmeckt gut Facebook posting. Robert Jentzsch was a contemporary of Hans Ehrenbaum-Degele but less Expressionistic than neo-Stefan-George in a painterly way. That being said, the following poem follows the Expressionist's primacy of exploring the importance of dreams on our waking consciousness. Robert Jentzsch may be unique in his brilliance as a mathematician and his serious interest in poetry. Sadly, both flames were extinguished on the battlefields of WW1, where he was killed at age 26. Thoughts on my first attempt at translating his work...? Widmung von Robert Jentzsch Die ihr im flüsternden Walde nächtens schweift, Vorm falben Frühlicht in die Häuser kehrt, Nach Schmetterlingen langt, nach Faltern greift, Ihr licht- und frohen Kinder unversehrt Von Qual, die sinnlos uns am Boden schleift, Die uns der Tage Munterkeit verwehrt, Und, wenn die stumpf Entschlafnen Morgen streift, Heiß gegen Wollen und Traum aufbegehrt: Ich will erinnern, wie ich eure Kreise, Die Spiele der begeisterten Natur Verlassen musste, Hügel, Fluss und Flur, Wie ich die tief in Lehm geschnittnen Gleise, Hinwandernd zu den großen Städten kam: Nun kenn ich Jugend krank und Alter gram Und die Zertrümmerung der Menschen-Seele. ------------------------------------- Convocation by Robert Jentzsch You who drift in some rustling forest at night, Going home 'fore dull morning's glow is spied, Grasping at butterflies, grasping moths in flight, Bright and joyful children unscathed inside From torment, which drags us to the ground with might, To whom day's lithe cheerfulness is denied, And which lackluster morn comes as sleeping's blight To hot rebel against both dreams and pride: I'll recall I was forced to leave your confines, Where the games of nature delight and thrill, Parting with field and river, stream and hill, For just as deep-cut track and clay intwines Wandering towards the great cities still, Age finds itself sorrowful, and youth ill To know how shattered is a human soul. _

1

I've been reading selections from a poet most remembered today for her Sapphic exposes of high Victorian times. And with poems like the following, one can see why her particular anguish intrigued the 20th century minds of psychologists. wow The Convent Threshold There's blood between us, love, my love, There's father's blood, there's brother's blood, And blood's a bar I cannot pass. I choose the stairs that mount above, Stair after golden sky-ward stair, To city and to sea of glass. My lily feet are soiled with mud, With scarlet mud which tells a tale Of hope that was, of guilt that was, Of love that shall not yet avail; Alas, my heart, if I could bare My heart, this selfsame stain is there: I seek the sea of glass and fire To wash the spot, to burn the snare; Lo, stairs are meant to lift us higher— Mount with me, mount the kindled stair. Your eyes look earthward, mine look up. I see the far-off city grand, Beyond the hills a watered land, Beyond the gulf a gleaming strand Of mansions where the righteous sup; Who sleep at ease among their trees, Or wake to sing a cadenced hymn With Cherubim and Seraphim; They bore the Cross, they drained the cup, Racked, roasted, crushed, wrenched limb from limb, They the offscouring of the world. The heaven of starry heavens unfurled, The sun before their face is dim. You looking earthward, what see you? Milk-white, wine-flushed among the vines, Up and down leaping, to and fro, Most glad, most full, made strong with wines, Blooming as peaches pearled with dew, Their golden windy hair afloat, Love-music warbling in their throat, Young men and women come and go. You linger, yet the time is short: Flee for your life, gird up your strength To flee; the shadows stretched at length Show that day wanes, that night draws nigh; Flee to the mountain, tarry not. Is this a time for smile and sigh, For songs among the secret trees Where sudden blue birds nest and sport? The time is short and yet you stay: To-day, while it is called to-day, Kneel, wrestle, knock, do violence, pray; To-day is short, to-morrow nigh: Why will you die? why will you die? You sinned with me a pleasant sin: Repent with me, for I repent. Woe's me the lore I must unlearn! Woe's me that easy way we went, So rugged when I would return! How long until my sleep begin How long shall stretch these nights and days? Surely, clean Angels cry, she prays; She laves her soul with tedious tears: How long must stretch these years and years? I turn from you my cheeks and eyes, My hair which you shall see no more— Alas for joy that went before, For joy that dies, for love that dies. Only my lips still turn to you, My livid lips that cry, Repent. O weary life, O weary Lent, O weary time whose stars are few. How shall I rest in Paradise, Or sit on steps of heaven alone If Saints and Angels spoke of love Should I not answer from my throne: Have pity upon me, ye my friends, For I have heard the sound thereof: Should I not turn with yearning eyes, Turn earthwards with a pitiful pang? Oh save me from a pang in heaven. By all the gifts we took and gave, Repent, repent, and be forgiven: This life is long, but yet it ends; Repent and purge your soul and save: No gladder song the morning stars Upon their birthday morning sang Than Angels sing when one repents. I tell you what I dreamed last night: A spirit with transfigured face Fire-footed clomb an infinite space. I heard his hundred pinions clang, Heaven-bells rejoicing rang and rang, Heaven-air was thrilled with subtle scents, Worlds spun upon their rushing cars. He mounted, shrieking, "Give me light!" Still light was poured on him, more light; Angels, Archangels he outstripped, Exulting in exceeding might, And trod the skirts of Cherubim. Still "Give me light," he shrieked; and dipped His thirsty face, and drank a sea, Athirst with thirst it could not slake. I saw him, drunk with knowledge, take From aching brows the aureole crown— His locks writhe like a cloven snake— He left his throne to grovel down And lick the dust of Seraphs' feet; For what is knowledge duly weighed? Knowledge is strong, but love is sweet; Yea, all the progress he had made Was but to learn that all is small Save love, for love is all in all. I tell you what I dreamed last night: It was not dark, it was not light, Cold dews had drenched my plenteous hair Through clay; you came to seek me there. And "Do you dream of me?" you said. My heart was dust that used to leap To you; I answered half asleep: "My pillow is damp, my sheets are red, There's a leaden tester to my bed; Find you a warmer playfellow, A warmer pillow for your head, A kinder love to love than mine." You wrung your hands, while I, like lead, Crushed downwards through the sodden earth; You smote your hands but not in mirth, And reeled but were not drunk with wine. For all night long I dreamed of you; I woke and prayed against my will, Then slept to dream of you again. At length I rose and knelt and prayed. I cannot write the words I said, My words were slow, my tears were few; But through the dark my silence spoke Like thunder. When this morning broke, My face was pinched, my hair was grey, And frozen blood was on the sill Where stifling in my struggle I lay. If now you saw me you would say: Where is the face I used to love? And I would answer: Gone before; It tarries veiled in paradise. When once the morning star shall rise, When earth with shadow flees away And we stand safe within the door, Then you shall lift the veil thereof. Look up, rise up: for far above Our palms are grown, our place is set; There we shall meet as once we met, And love with old familiar love. —Christina Georgina Rosetti _

1

How did I miss this? These poems make me walk in my old shoes again.

1

I would like to see what you think. My attention was recently directed towards the work of someone I'd never encountered before. The question asked of me was "What do you think? Could he have been Gay or Bi based on the printed material?" I read his work, and still at this point, I am not sure. So, I thought I'd post a selection of his poems and see what you think. In the absence of any biographical information stating he was close to any specific male person, do you think the work itself speaks to a quality of love that can only be understood fully in the context of same-sex love? A selection from "Poems and Lyrics" George Reston Malloch To E. J. V. M., in memory of one April of shower and sun, and the tears and laughter of the April years that we shared. Thou Unimagined Word Thou unimagined word, And thou half-faltered phrase, Half-guessed, half-known, half-heard, Eluding all my days! How shall I sing, unblest, And not of Orpheus' kith, The glories April drest Her eager mornings with? Or tell how summer's fair, Or read the rose's sheen, Or with sonorous air, Autumn's reluctant mien Best fits my barren mood A winter poverty, When no bird in the wood Shall make a mockery. Love and Spring I saw the wind come over the young wheat, With soft, invisible feet. And many an oak held up his golden buds About the songful woods. So I saw, over the youth of our young love, Dim-moving Beauty move. So in my heart the golden buds were springing, And there were voices singing. Oh, Soul that Walks Alone Oh, soul that walks alone, Between the sky and sea, Upon the changing earth: The sky is full of gods, The sea is full of death, The earth is full of dreams. June When the woodpecker laughs in the summer wood, And shy birds whisper in hidden brakes, And the doe in the bracken hides her brood: When the last long note of the nightingale wakes, And lovers tremble who long withstood, Lest the witchery win them that moonlight makes: Song awakens and hushes her lips, Lest she should lose but a note of the birds, Lest she should trouble with idle words Deeper and tenderer fellowships. The Forest Ways are Full of Song The forest ways are full of song, Of songs that hesitate and change As though they were too sweet and strange For birds to sing them over long. A soft wind flutters from the west, The shy is blue and white the cloud – I stand and tell my love aloud, To add a beauty to the rest. The forest ways are full of song, Of songs that hesitate and change, As though they were too sweet and strange For birds to sing them over long. from Festal Chorus Let mirth and laughter flow, Crown every youthful head With garlands new and sweet! Let every maiden bud In beauty break, And wintry prudence shed.* * I include this as illustration of the way the poet uses "youth" and its derivations. Here he clearly contrasts, in boys and girls fashion, "youthful head" with "maiden bud," showing youth to him signifies young man. The Parents They sing the sacred joys of parenthood, They hold the voice of children the best truth, They tell us of sweet women, mother-wise. Ah, woe of mothers, never understood! Ah, pain of fathers, seeing their own youth Look at them with unrecognized eyes! The Gossamer Thread Love, as lovely and frail as the gossamer thread, Woven like a garment over the morning earth, To shine, and die, and be as the shadowy dead Behind out mirth: Ah, was the weight of these jewelled tears too much? How fair they were in the rays of the autumn sun! Was the web too fragile to bear a moment's touch, So finely spun? Did it shrivel and break in the glare of noonday heat? Or snap at the echo of laughter, the weight of dread? Enough that the lawns are bare, and the white, swift feet Of Love are sped. The Statue at Copt Hall The statue of Pan Stands in the alley; It looks on the fields, And looks on the valley. Still are his pipes, And still his features; Still are the fields, And still his creatures. The heat of noon Burns on the meadow The statue is white In the yew-trees' shadow. Why wears the God That smile sardonic? Heard he our talk Of love Platonic? Knowledge He. I have known many women, and I know That love is sweeter unfulfilled. Cast not your heavy eyes upon me so, Love-weary child! Our souls held commune sweetly, as they willed, And it is sweeter, fairer, so. Sweeter to sit, hands clasped and voices stilled, In the evening glow. She. I have known no man, ever – and I know That all my body burns for you. Surges from some vast ocean ebb and flow My hot veins through. And while our souls communed, in me there grew A hungry, passionate, wild glow. My flesh is yearning for your flesh, a new, Immense, strange throe. The Enchanted Youths Their brows fading sombre Are pale with what they know: The fountains of youth remember The ocean to which they flow. They crown themselves with garlands, And drink of a golden wine, But their eyes are set on far lands, Their lips for a richer vine. And through their autumn dreaming, The choir of vague, sweet song, Breathes of unfound redeeming, And fires that smoulder long. They see soft arms outreaching To clasp them home to bliss, They look to the stars beseeching, Beseeching – but not for this. Their brows fading sombre Are pale with what they know: The fountains of youth remember The ocean to which they flow. "But I am Youth and you are Age" My beauteous youth in lovely guise Looked on me with a stranger's eyes, And faltered to my amorous rage, "But I am Youth and you are Age!" Oh, sentence of a harsh assize! I bad my heart to be cold and wise, But nothing could these words assuage, "But I am Youth and you are Age!" This the tear that never dries. In vain, my heart – lost are your skies, Oh, bird that beats about Time's cage! "But I am Youth and you are Age!" Beauty Beauty, unattempted, She was my lover: To me, too blessèd, Her white limbs did uncover. Eyes had fill of rapture, Lips had lips to kiss: Sought I to capture The deepest, deepest bliss. Then the fiery pang Smote through heart and core: Then the love song rang False, and rose no more. from An Admonition to Venus Now Aphrodite we discrown, Love grows to something more than lust, And passion chooses other ways Of soul and spirit for its own. Our lover asks an equal trust, And less the accidental praise Of beauty—* * I include this snippet because it illustrates love as understood from Plato's Symposium. In it, Plato writes Venus is the goddess of prostitutes and opposite-sex love, whose impulses drive human procreation. In this poem, Malloch's "other ways," along with the notion of an equality of love and lovers, is straight from Plato too, who states Eros governs the selfless and pure ('heavenly' is his word) nature of Gay love. Gold of October Shall any gold October brings Console us for a far-off time When April sighed and spread her wings? Or shall achievement in its prime Fulfil the rapturous hope that sings In the first ecstasy of rhyme? A deepening chill the autumn brings. The finished statue stands sublime. Life turns to hew at other things. The Great Silence These are the lips that made a rose for you, And these the tender arms that lie at rest: The clasped hands break not their repose for you, Folded on that quiet breast. Silent the voice that made a song for you, And spells unbreakable the white limbs bind: Still is the heart that used to long for you, And satisfied the mind. Peace, peace – marmoreal peace, how far from you! Broken for ever is this soul from yours: Silent, and alien as a star from you, In silence that endures. ~ https://babel.hathitrust.org/cgi/pt?id=hvd.hwkgxy&view=1up&seq=7&skin=2021 _

2

There are so many appealing images and sensations that float to the surface in every stanza. Each one stirs my heart, reaching a sweet kind of cadence in the last four. Hamo was indeed a lucky man.

1

I found this fascinating Rubaiyat by an unexpected poet. If you are like me, you will think it's pretty darn accomplished for its date and for being the work of a young poet. ad auditorem Take hands with me, dear unknown friend, and find Some downy hollow, sheltered from the wind, Where summer meadows overlook the sea, And let us, in the grass at length reclined, Hold converse, while the melting air around Is full of golden light and murmuring sound, And let your soul shine frankly upon me, And I will tell the best my heart has found. But first hold up against the light your wrist, Where blue veins hide like unhewn amethyst, And let me feel that you have bodily fire And purple that the sacred sun has kissed. Else, if your blood be chilly, go your way – I have no song to sing to you to-day; The goal to which our lyric hearts aspire Must be the very core of life in May. The wind that glows about your cool brown throat, The mists that in the violet distance float, The sun that dips into the rippling waves, All chant the lesson I have learned by rote. I clasp, as bees do flowers, with amorous wings, The spirit of life in moving joyous things; Where'er desire receives the boon it craves, A new Athene from my forehead springs. When on the rose-stock a fresh blossom blows, I live within the young triumphant rose; I stretch my plumes with new-born butterflies, And with the yearling linnet's my voice grows. But most I find the answer to my mind Where men and women live as God designed, With natural aims, warm loves and sympathies, By no court-rules or uncouth laws confined. Lovers behind the hay-stacks out of sight, And peasants dancing in a barn at night, Rough fishers chanting as they haul the net, And whistling mowers in the fading light, Slim country girls that chatter hand in hand, Men singing homewards through the harvest-land, The fiddler scraping, when the moon has set, A may -pole ditty for a laughing band – All these are more than my own life to me; I haul the moon-shot fishes from the sea, I fiddle on the village-green, I dance, I thrill with others in their honest glee. And this is what I choose, and, if you will To call it higher, I reach higher still; Whatever joyous gift design or chance Has given our little round of years to fill, Is mine by love of it; and when I stand To watch the fingers of a master's hand, And taste the rich arpeggios, and, ablaze With florid chords, hear how the fire is fanned; Or by some sweet entablature discern Old stories at a painter's beck return And shed their dewy light on our dark days, I throb with joy, and as I look, I learn. And these make up my sum of life's desire – To live for ever in the sun's broad fire, To know and love strong men and shapely girls, And nobly working till the end aspire. With colour, verse, and harmony to frame A house of beautiful delights, whose name May stir the world with pleasure like fine pearls, Strung on a gold thread gleaming as a flame. There have been sage philosophers who found That pleasure was a dream, and song mere sound; They passed, and left us poorer; now, ah me! I wonder what they dream of underground! For lying in the narrow earth they miss All consolations of remembered bliss, The scent of wine, blown air and glowing sea, The songs we sing, the kisses that we kiss. For us no learning is worth half the lore Of knowing what the breakers tell the shore; No science half so wise as what the bee Is murmuring while he feels the lily's core. So listen while I tell you my delights On sunny afternoons and starry nights, What secrets Love has whispered low to me, And what I know of Nature's mystic rites. And though the sunset, with her warm red flesh, And blown hair tangled in a golden mesh, Wind all along the west her mute caress, Yet turn and let our hearts commune afresh. Yes! go not till the amorous night suspires From heaven her stars, from earth her glow-worm fires, And I will sing my songs to you, and press Your shoulder with my head till day expires.[i] —Edmund Gosse, 1873 (Gosse is famous for the passionate love letters he exchanged with fellow artist William Hamo Thornydyke, which miraculously have been preserved. Their relationship was so open, a person who knew the men quipped much later that if Gosse wasn't Gay, he was certainly "Hamosexual" lol) [i] "ad auditorem" [meaning, 'to the listener'] Edmund Gosse On Viol and Flute (London 1873), ps. 1-5 https://archive.org/details/onviolflute00goss/page/n13/mode/2up _

1

I posted this poem, which is translated from the Arabic original, in the Poetry section of the Great Mirror of Same-Sex Love collection. I'll post it here too, as it's utterly incredible. Reading this work from Moorish controlled Spain (circa 980s AD) gives me a whole new grounding for understanding modern Spanish-language poetry. "…a beloved boy's cheek with sweat…" Many a cup adorned the wingèd darkness With a coat of light until the dawn's ray; Many a night I drank to a young man,[i] Who had a sleepy look that mine kept awake; The cup hid from the eyes till I thought It feared from his stare what was fearful to me; It shone in his hand's purity Like the sun's beams greeting the sky, As if the cup in his fingers were A saffron narcissus rising among leaves; It appeared like a sun, with his mouth a sunset, With his cupbearer hand resurrecting the sunrise. When the cup went down to his mouth, It leaves compassion on his cheeks. This shower in cloudy downpours is A friend to gardens singing and drinking, As if earth were his dungeon, and His growth, an innocent in prison. The lightning honors its borders With a colored coat when it flashes, As if its dark cloud were The black made into a spotted horse, As if the wind as it blows Drives the magpies into the sky; For here the night-wandering stars stray In confusion, not knowing their own paths. Lightning lights its lamp; The face of the darkness is dawning, And thunder sings the bass part As the cups of clouds take root. The sun comes to entice us And wrapped with its rays, the drowning, As if the sun-reviving breath Were a bright, passionately loved boy; As if the rose shining on the dew Were a beloved boy's cheek with sweat Over which burst-sunlight gilds like saffron. I thought such light hid its love for the rose, The way two lovers quick embracing act, The one bashful, the other fleet of foot. But, oh those stars in the garden That climb from the beds to on high And look on the morning sun Like flower buds trapping eyes, Be like the dewdrops as they flow, Stayed like quicksilver on the leaves. —al-Sharif al-Taliq,[ii] circa 980 [after Arthur Wormhoudt] [i] "young man" the term for a sexually available young man is 'gazelle' in Arabic. [ii] "…a beloved boy's cheek with sweat…" al-Sharif al-Taliq Gay and Lesbian Poetry: an anthology from Sappho to Michelangelo, James Wilhelm [Editor] (New York 1995), ps. 196-197. This excerpt actually constitutes the middle section of a longer poem on the themes of power, position, love and family. _

1

Thanks Parker. I'm glad it interested you. This was another rewrite. I originally wrote this around 2010 I think. I unfortunately lost the original when my laptop died. Anyhow, in the original, the angel didn't fit the pretty boy mold, and was being chased and beaten by the other angels. He tripped on something and fell from the clouds. When he hit the pavement he was bloody and bruised, being stepped over and overlooked by unconcerned strangers. One stranger felt the angel's pain and fear, so he took him in, and loved him. The next morning the stranger woke to see his love made the angel's inner beauty shone through, giving the angel an outward appearance as golden as his heart. I was happy with the emotion and imagery of the first draft, but thought I needed work on the wording and rhyming, so this rewrite was the end result. If I can, I'll try seeing if I posted the original somewhere.

Now I'm interested in knowing more: how did the crash occur? How broken was this angel?

Come ye now and rest a spell A mystic tale I'd love to tell Of three myths different they seem Their coexistence is like a dream The brilliant Phoenix vibrant and wise On wings of flame, she takes to flight Gracefully soaring through the skies An angel bathed in morning light In luscious meadows the Unicorn plays His life is full of love always Shimmering splendor and gentlest of wills With innocent wonder he roams the hills In the distance a mighty Dragon roars Shaking mountains and sandy white shores He heeds the Phoenix's cry to retire Engulfs her aging flesh in breath of fire The Unicorn offers comfort and mirth Together they witness the legend's rebirth

Angel crashed out of the sky Broke his wings from the fall In pain he cried I want to die He beat his head against a wall As I watched the horrid scene A surge of love awoke my heart Kissed his cheek and got him clean A broken angel was my new start

You totally rock. I love the power of the imagery you poured in this.

The Phoenix The Bird that always dies. The Bird that always flies. Many view it turn into ashes even if they are distant. And, see it come back together in an instant. "He" has wings of fire. Some think "She" is only desire. But, what the Phoenix truly is, Is truly HIS. It is ultimate power at every hour. All darkness, it will devour. It has not even a single feather, yet, always flies. Just like the storm's weather, It rules the skies. It is never foolish & always wise. It has burning eyes. It hates evil & all lies. It sees good & bad. And, that is why it gets mad. Anything that gets in the way of its path, It will destroy it all, with its wrath. Its mind is stronger & longer than anything you can imagine. That is why you can never go in. You wouldn't survive in there, Similar to a Tornado's violent air. It blows & goes everywhere. You think you can beat it? You can never defeat it. Just like water, It has no permanent form. That is why it has the ability to transform. It is so warm... The main lesson of the Phoenix, Is everyone has the power to fix, Anything bad in their life if it is possible. If so, they are responsible. Oh, you think you cannot? That is why the Phoenix is so hot. Because when you use it, You would be surprised how far you can go. Go. Simply, do it and have fun, While The Phoenix burns just like the Sun.

Pain You have the ability to turn pain into power. Do not let it fool you. Do not let it rule you. Use it to fuel you. From the ashes of failure stem the roots of success. From lost games, can burn new flames. Forget all shames. They can be hotter and stronger and longer then ever. Yes. They can truly burn on forever. Enough crying. Tears are caused by pain, joy, or fears. Wipe them away. Today is a new day. That already is power, But, only if you use it, can you bury the past in the ground and grow a new flower. It takes time like this rhyme that you were meant to read. Patience, to eliminate pain, isn't even what you need. What is required, Is for you to simply let go. And, you will no longer feel tired. Your new flower will grow.

Thanks Parker I'm grateful for the comment. I'm a mixed race gay male in a biracial marriage. I'm Japanese, Mongolian, Polish, Irish, and Native American. I'm not sure what tribe I'm from, since I was adopted. Add to all that, my husband and I are Wiccan. LOL Thanks to my adopted Mom who was part Plains Indian, I was taught about the racism, pain, and inequality that hatred, greed, and fear can birth. I never like to brag about my creations, but this was one of my most powerful. It truly wrote itself. This is actually a much less violent and dark rewrite. Unfortunately, at the time I felt the need to destroy the original it was too much for me, and I wrote it. Sorry for the long response, I just wanted to give a bit of I guess insight into this poem's life.

Six years, and the voices still echo as if they were new.

Here come the screams Every night they're haunting Interrupting my dreams Sleep becomes too daunting Outside the thunder rolls Flowing with fury and pain Of all the tortured souls Murdered by an unjust reign Silence adds fuel to hate We yield to the covetous fear Speaking out changes fate And gives us all a brighter year

Myr is looking to expand the genre tags into more specific categories, with a primary genre followed by specific subgenres. The poetry tags need a lot of work, so we're looking for suggestions. I've already done some consulting and have come up with a list based on their feedback. Please let me know if there are any other suggestions to include with the poetry tags. NaPoWriMo Translation Haiku Limerick Epic Blank Verse Free Verse Counted Syllable Forms Sonnet Lyric Mixed Forms Erotic Other Forms

2

This poem came to me in an old, inexpensive volume of his collected essays. He heads most of those essays with original poems, like this one for "Friendship." It's possible the poems from the essays were not reprinted in Emerson's collected verse. This one has certainly never shown up in any of the dozen or so anthologies of Gay verse I have...and it should!!!