Escape the current world with heartfelt romance, comedy, and drama during this trying time with a collection of shorts to tide you over. Same Love is a compendium offered from us to all of you to enjoy during this pandemic. Each chapter will be a new author with exciting narratives on offer.
(Stories by @AC Benus , @Brayon, @Comicality, @D.K. Daniels, @Mikiesboy, @Thorn Wilde, and @Wayne Gray) - New Stories Daily
We have compiled Same Love into a free ebook for folks if you'd like to add the collection to your Kindle or Google Play library. We'll be releasing a short a day until completion. The book will be free on Amazon and Google in the coming days if you'd rather download it directly from Amazon or Google Plays service. Thanks to all the authors who offered up a little something. ( We'll be adding a story a day.)
Click Here to manually add it yourself. Should open automatically once you download it providing Kindle is installed.
Cover by Thorn Wilde, photo by Cottonbro, Pexels.
Copyright © 2020 D.K. Daniels, AC Benus, Brayon, Comicality, Mikiesboy, Thorn Wilde, Wayne Gray; All Rights Reserved.
Author

04/26/2020

(Updated: 05/02/2020)

62,495 Words
23,250 Views
121 Comments
Story Recommendations (5 members)
Action Packed

2

Addictive/Pacing

2

Characters

4

Chills

0

Cliffhanger

2

Compelling

0

Feel-Good

0

Humor

0

Smoldering

4

Tearjerker

2

Unique

4

World Building

0
---
2

9
Story Cover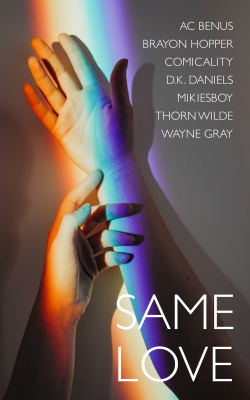 User Feedback
Newsletter

Want to keep up to date with all our latest news and information?

Sign Up