Join For Free and Get Notified of New Chapters!

Are you enjoying a great story and want to get an alert or email when a new chapter is posted? Join now for free and follow your favorite stories and authors!  You can even choose to get daily or weekly digest emails instead of getting flooded with an email for each story you follow. 

 
Good Guys Don't Date Bad Boys
Jonathan Hamilton transfers to Sunny Hill starting junior year to run away from his past and keep promises on which to build an uneventful, safe future. The biggest promise he makes to himself is to stay clear forever, by all means necessary, of straight bad boys and their unhealthy appeal.
But promises are only made to be broken, Jonathan discovers the truth of the old adage, as junior year barely starts, and he has a run-in with the ridiculously attractive Maddox Kingsley, the resident BMOC, and carrier of the frightful nickname of 'Mad Dawg'. (Full description inside.)
Copyright © 2021 Laura S. Fox; All Rights Reserved.
Author

08/14/2021

(Updated: 10/14/2022)

227,576 Words
178,362 Views
1,591 Comments
Story Recommendations (36 members)
Action Packed

14

Addictive/Pacing

31

Characters

35

Chills

3

Cliffhanger

18

Compelling

17

Feel-Good

23

Humor

25

Smoldering

19

Tearjerker

6

Unique

13

World Building

12
---
14

27
Story Cover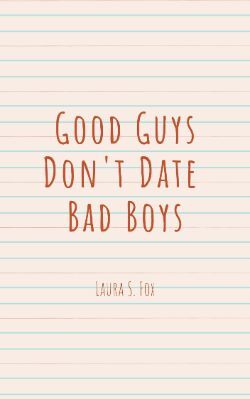 User Feedback
Newsletter

You probably have a crazy and hectic schedule and find it hard to keep up with everything going on.  We get it, because we feel it too.  Signing up here is a great way to keep in touch and find something relaxing to read when you get a few moments to spare.

Sign Up