This Strange World Needs A Kicking!
If only I got transported to another world like in those cool anime series – is what Kai Martin thinks when Milo, his best friend, suddenly confesses and asks him out.

Next thing he knows, he's in a huge bed, in what looks like royal chambers, and there's a handsome naked guy next to him. Who glares at him and asks him something about another round.

Another round of what?

And then, a guy in butler's livery walks through the door and looks at him like he just spat in his food.

(Full summary inside 'cause character limit)
Copyright © 2021 Laura S. Fox; All Rights Reserved.
Author

04/04/2021

(Updated: 02/20/2022)

182,757 Words
83,970 Views
315 Comments
Story Recommendations (1 member)
Action Packed

1

Addictive/Pacing

1

Characters

1

Chills

0

Cliffhanger

1

Compelling

0

Feel-Good

0

Humor

1

Smoldering

0

Tearjerker

0

Unique

1

World Building

1
---
Story Cover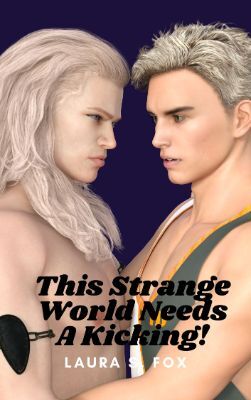 User Feedback
Newsletter

You probably have a crazy and hectic schedule and find it hard to keep up with everything going on.  We get it, because we feel it too.  Signing up here is a great way to keep in touch and find something relaxing to read when you get a few moments to spare.

Sign Up