Warlords
Keith, the Warlord Prince of Marmora, will do anything to save his people from an unwinnable war against the rest of the solar system. Anything, even if it means the end of the only life he's ever known, moving to a planet where he will be the only member of his species. Even if it means marrying a man sent against him in battle, someone who he has tried to kill.
Admiral Shirogane is willing to accept the marriage for the sake of the Coalition and the peace treaty which will bring an end to the bloodshed, but that doesn't mean it will be easy. Especially not if the Second Prince of the Galra still seems intent on fighting him at every turn.
no canon knowledge required.
© 1984-2019 World Event Productions; All Rights Reserved; Copyright © 2020 Sasha Distan; All Rights Reserved.
Promising Author

12/12/2020

(Updated: 12/12/2020)

32,041 Words
5,849 Views
19 Comments
Story Recommendations (9 members)
Action Packed

7

Addictive/Pacing

9

Characters

9

Chills

2

Cliffhanger

1

Compelling

2

Feel-Good

2

Humor

1

Smoldering

6

Tearjerker

2

Unique

8

World Building

8
---
7

9
Story Cover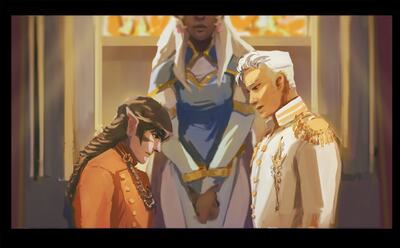 User Feedback
Newsletter

You probably have a crazy and hectic schedule and find it hard to keep up with everything going on.  We get it, because we feel it too.  Signing up here is a great way to keep in touch and find something relaxing to read when you get a few moments to spare.

Sign Up