September 21st 2023 - Holidays and Observances
(click on the day for details)
Observances (click on the day, BD, or week for details)
Fun Observances
Miniature Golf Day
On September 21 head on over to your local miniature golf course with your family and friends for a day of fun and adventure, because it is Miniature Golf Day!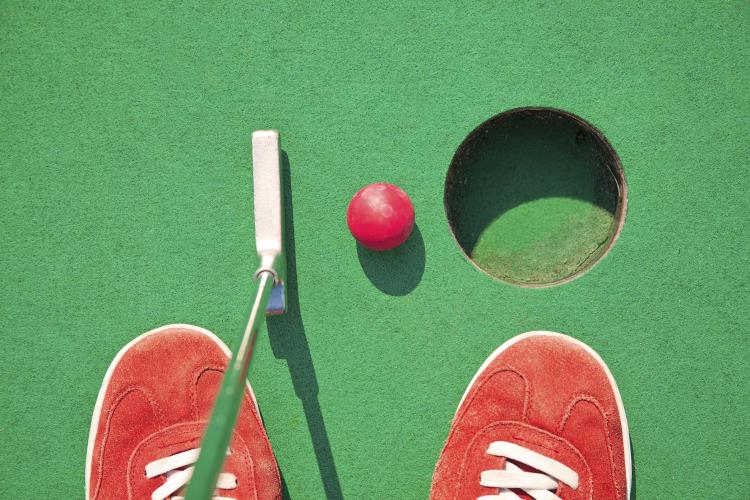 An offshoot of golf, miniature golf is a leisure sport that focuses on putting and includes artificial turf and obstacles.
It is believed that miniature golf was first invented, sans their characteristic obstacles and windmills, in Scotland in the late 19th century as a way to allow women to golf. Because it was unseemly for women to use a full sized golf club, the Ladies' Putting Club of St. Andrews decided to miniaturize the sport.
"This'll Do"
Miniature golf or put put as it is also sometimes called made its commercial debut in the early 20th century in North Carolina under the name of Thistle Dhu. The name was derived from the Scottish pronunciation of the words "this'll do".
The holiday is also sometimes celebrated on the second Saturday of May.
How to Celebrate?
Round up your family and friends and visit your local miniature golf course and play a few rounds of golf.
What about having a miniature golf course crawl? Instead of spending the whole day at one course, visit as many miniature golf courses in your area and play a round at each one of them
Install a miniature golf course in your backyard. Then, you'll be able to celebrate this fun holiday all year long!
Did You Know…
…that miniature golf is sometimes also known as crazy golf?
***
Q. What did the hot dog say when his friend passed him in the race?
A. Wow, I relish the fact that you've mustard the strength to ketchup to me.
***
Every morning I think I'm going to make pancakes, but I keep waffling.
***
Q. Why did the dinosaur cross the road?
A. Because chickens didn't exist yet!
***
Q: How do you fix a damaged jack-o-lantern?
A: You use a pumpkin patch!
***
Q: Where do ghosts like to travel on vacation?
A: The Dead Sea!
***
As I was treating my daughter and her family to the buffet at a casino, all the bells and whistles for a winning slot machine began to go off. My seven-year-old grandson was awed.
"Wow!" yelled Casey. "This is like Chuck E. Cheese for old people."
***
I'm convinced my cockroaches have military training.
I set out a roach bomb—they defused it.
***

***

***

***

***

***

***
While on a road trip, an elderly couple stopped at a roadside restaurant for lunch. After finishing their meal, they left the restaurant, and resumed their trip.
When leaving, the elderly woman unknowingly left her glasses on the table, and she didn't miss them until they had been driving for about forty minutes.
By then, to add to the aggravation, they had to travel quite a distance before they could find a place to turnaround, in order to return to the restaurant to retrieve her glasses. All the way back, the elderly husband became the classic grumpy old man.
He fussed and complained, and scolded his wife relentlessly during the entire return drive
The more he chided her, the more agitated he became. He just wouldn't let up for a single minute.
To her relief, they finally arrived at the restaurant. As the woman got out of the car, and hurried inside to retrieve her glasses, the old geezer yelled to her, While you're in there, you might as well get my hat and the credit card.
***

***

***

***

***

***

***

***

***

***

***

***

***

***

***

***

***

***

***

***

***

***

sandrewn
1

1