October 4th 2023 - Holidays and Observances
(click on the day for details)
Observances (click on the day, BD, or week for details)
National Walk and Bike to School Day
National Truckers Appreciation Day
Francesca from Magic Box's Birthday
Susan Sarandon's Birthday
Liev Schreiber's Birthday
Fun Observances
Taco Day
Lettuce taco 'bout Taco Day. It's on October 4 and that gives you the perfect excuse to spend the entire day eating tacos.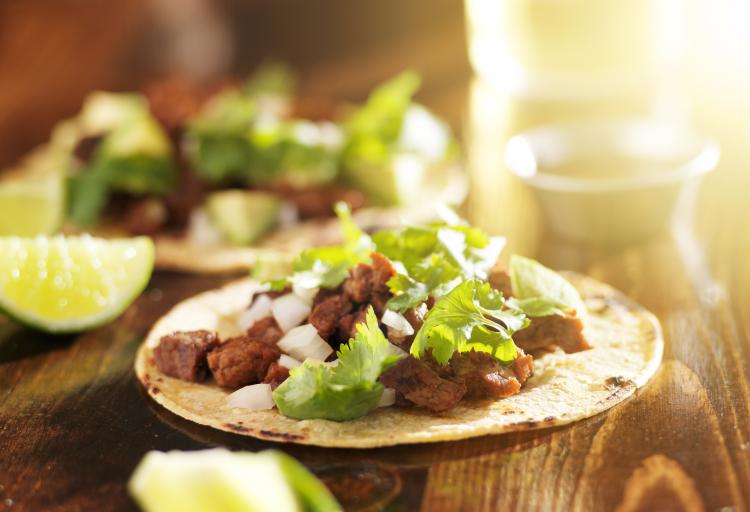 A traditional Mexican version of the sandwich, a taco is a tortilla stuffed with filling. Usually made of corn or wheat, the tortilla can be filled with beef, chicken, vegetables, pork or seafood and served with cheese, cilantro or onions as garnish.
Different Kinds
In Mexico, tacos are generally associated with fresh tortillas, while in the United States, one can find many different types of tacos. Some of these include hard shelled tacos, made of deep fried U shaped tortillas; fried tacos, which are made by frying tortillas stuffed with filling; and tacodillas which is made by stuffing cheese between two tortillas and then adding a filling to the top tortilla.
How to Celebrate?
With tacos, lots and lots of tacos! Start the day with breakfast tacos - eggs, bacon and breakfast sausage wrapped in a tortilla. Have a vegetarian taco with beans, rice, jalapeño peppers and guacamole for lunch and delicious pork, beef or chicken tacos for dinner. Finish the day with dessert tacos - tacos filled with ice cream, fruit or cream and topped with chocolate or fruit sauce.
Experiment with the flavors of the taco filling. What about making some Korean-inspired tacos by adding some kimchi or an Indian version of the taco with some curried chicken?
Did You Know…
…that in 18th century Mexico, tacos referred to pieces of paper that Mexican miners wrapped around gunpowder to make holes in mines?
***
Q: What's the difference between a cat and a comma?
A: One has claws at the end of its paws,
while the other is a pause at the end of a clause.
***
The military may have invented the Internet, but not all government schemes have worked as well. In 
the '60s, the CIA hatched a plan to implant a battery and a microphone in a cat so the furry feline could 
spy on unsuspecting targets. The program was halted when, after years of research and millions of 
dollars spent, the spy cat was run over by a cab.
***
A woman walked into my aunt's animal shelter wanting to have her cat and six kittens spayed and neutered.
"Is the mother friendly?" my aunt asked.
"Very," said the woman, casting an eye on all the pet carriers. "That's how we got into this mess in the first place."
***
I was in the bathroom brushing my teeth when my squad leader barged in. He was holding a toothbrush, which he proceeded to use to scrub underneath the rim of a toilet.
"What are you doing?" I asked.
"Hazing the new guy," he said with a grin.
"You do know that he could get ill from the bacteria on the toilet."
His reply was quick and to the point:
"You didn't."
***

***

***

***

***

***

***

***

(?!?!?!?!?!)
***

Home schooling, and you thought you had it bad!!!
***

Not today, Mr. Snake
***

***

***

( " Uh oh!" )
***

***

***

***

***

***

***

***

***

***

***

***

***

***

***

***

***

(This one I really like)
sandrewn
1

1