October 22nd 2023 - Holidays and Observances
 (click on the day for details)
Observances (click on the day, BD, or week for details)
National Kristopher NaJee Roebuck Day
Gloria Carter Spann's Birthday
Carrie Hope Fletcher's Birthday
Fun Observances
Caps Lock Day
October 22 IS CAPS LOCK DAY! The day celebrates the Caps Lock on a computer keyboard and was created by Derek Arnold in 2000.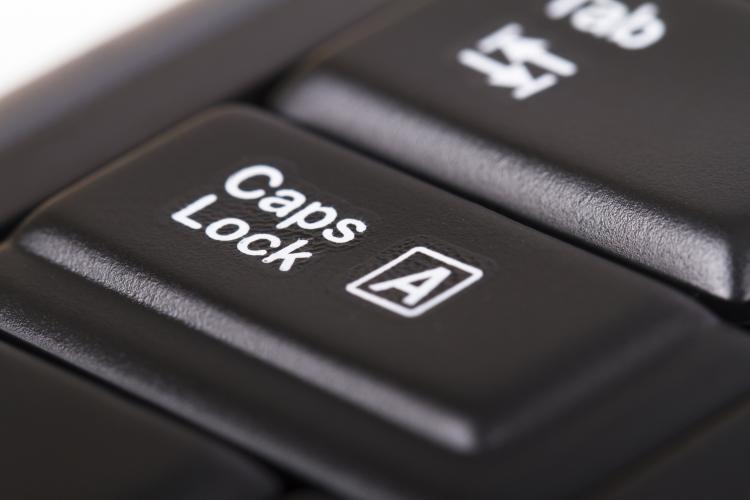 It is unclear what the exact purpose of this made-up holiday is. Perhaps it encourages people to use the Caps Lock in their online communications. Or maybe it discourages them to use it because using all caps in an electronic communication is generally associated with anger and yelling.
Uppercase
On most keyboards, caps lock is a button or key that when set forces all types letters to be in uppercase. The mode can be switched off by pressing the caps lock key again.
Caps Lock Day is also called International Caps Lock Day and is sometimes celebrated on June 28.
How to Celebrate?
Communicate with friends and family using the Caps Lock.
Did You Know…
…that according to some studies, the three most used keys on a typical computer keyboard are the delete key, the key for letter e and the space bar?
***
It was my first night caring for an elderly patient. When he grew sleepy, I wheeled his chair as close to the bed as possible and, using the techniques I'd learned in school, grasped him in a bear hug to lift him onto the bed. But I couldn't clear the top of the mattress. So I grabbed him again, summoned all my might, and hoisted him onto the bed. When the night shift nurse arrived, I recounted what had happened.
"Funny," she said, looking puzzled. "Usually I just ask him to get in bed, and he does."
***
As a brain wave technologist, I often ask postoperative patients to smile to make sure their facial nerves are intact. It always struck me as odd to be asking this question right after brain surgery, so a colleague suggested I ask patients to show me their teeth.
Armed with this new phrase, I said to my next patient, "Mr. Smith, show me your teeth."
He shook his head. "The nurse has them."
***
My paramedic team was called to an emergency. Before we took the patient to the hospital, I had a question for his wife. "Does your husband have any cardiac problems?" I asked.
"Yes," she said with a note of concern. "His cardiologist just died."
***
Gary was having a yard sale. 
A minister bought a lawn mower 
but returned it a few days later, 
complaining that it wouldn't run.
"It'll run," said Gary. "But you 
have to curse at it to get it started.
" The minister was shocked. "I have not uttered a curse in 30 years."
"Just keep pulling on the starter rope—the words will come back to you."
***

***

***

***

***

***

***

***

***

***

***

***

***

***

***

***

***

***

***

***

***

***

***

***

***

***

sandrewn
Edited by sandrewn
2

1