October 20th 2023 - Holidays and Observances
(click on the day for details)
Observances (click on the day, BD, or week for details)
Philippine-British Friendship day
Developmental Language Disorder Awareness Day
Fun Observances
International Sloth Day
October 20 is International Sloth Day, a day to honor the adorable slow-moving, tree-dwelling, and leaf-eating mammals.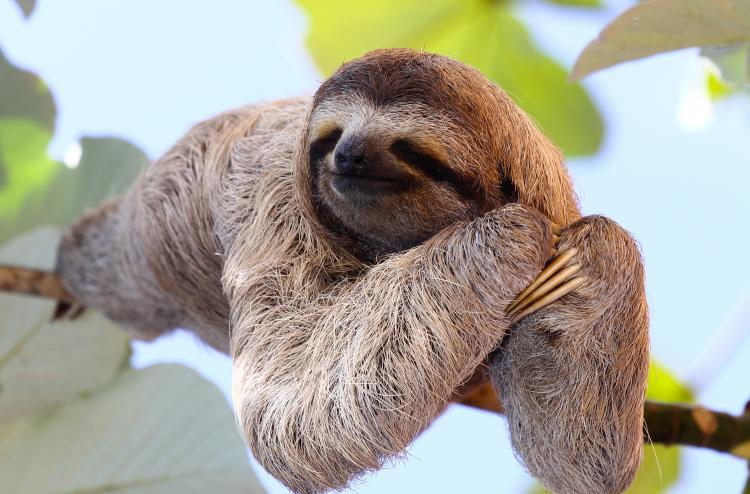 International Sloth Day was created in 2010 by the AIUNAU Foundation, a non-profit conservation and wildlife organization based in Colombia. The unofficial holiday raises awareness about the life cycle and natural habitat of the Sloth. The day also calls on people to learn more about these native South and Central American animals.
Helping Humans Fight Diseases
These extremely slow-moving animals, whose name is synonymous with one of seven deadly sins in Christian philosophy, tend to spend their entire lives hanging from limbs of trees.
They have two layers of fur, which harbors a variety of symbiotic algae, fungi, beetles and other insects. The algae on the sloth's fur give it it's characteristic green color and helps the sloth camouflage itself in thick vegetation. Recent studies have shown that the algae and fungi in the sloth fur may help fight many human diseases, including cancer.
How to Celebrate
Learn more about the habitat, physiology and habits of the sloth.
If your local zoo has sloths, visit it and spend the day observing them.
Volunteer your time and money to a conservation and wildlife organization working to preserve the habitat of the sloth.
And finally, this is a good day to be slothful. Spend the day doing nothing at all!
Did You Know…
…that even though sloths mostly eat leaves, their stomachs can't easily digest them? Sloths have a stomach with four compartments and it takes them almost a month to digest one meal.
***
My boss yelled at me the other day, "You've got to be the worst train driver in history. How many trains did you derail last year?"
I said, "Can't say for sure, it's so hard to keep track!"
***
Last night, I dreamed I was swimming in an ocean of orange soda. But it was just a Fanta sea.
***
The public safety officer came up to a large mob of people outside a department store and asked, "What's happening?"
A mall officer replied, "These people are waiting to get the new Barbie doll."
The public safety officer shook his head and muttered, "Who can resist a Barbie queue?"
***
In ancient Rome, deli workers were told that they could eat anything they wanted during the lunch hour. Anything, that is except the smoked salmon. Thus were created the world's first anti-lox breaks.
***
My neighbor is in the Guinness World Records.
He has had 44 concussions. He lives very close to me.

A stone's throw away, in fact.
***

***

***

***

***

And now you know
( just in case )
***

***

***

***

***

***

***

***

***

***

***

***

***

***

***

***

***

***

***

***

***

***

sandrewn
2