Join For Free and Get Notified of New Chapters!

Are you enjoying a great story and want to get an alert or email when a new chapter is posted? Join now for free and follow your favorite stories and authors!  You can even choose to get daily or weekly digest emails instead of getting flooded with an email for each story you follow. 

 
This Strange World Needs A Kicking!
If only I got transported to another world like in those cool anime series – is what Kai Martin thinks when Milo, his best friend, suddenly confesses and asks him out.

Next thing he knows, he's in a huge bed, in what looks like royal chambers, and there's a handsome naked guy next to him. Who glares at him and asks him something about another round.

Another round of what?

And then, a guy in butler's livery walks through the door and looks at him like he just spat in his food.

(Full summary inside 'cause character limit)
Copyright © 2021 Laura S. Fox; All Rights Reserved.
Author

04/04/2021

(Updated: 02/20/2022)

182,757 Words
76,885 Views
315 Comments
Story Recommendations (1 member)
Action Packed

1

Addictive/Pacing

1

Characters

1

Chills

0

Cliffhanger

1

Compelling

0

Feel-Good

0

Humor

1

Smoldering

0

Tearjerker

0

Unique

1

World Building

1
---
Story Cover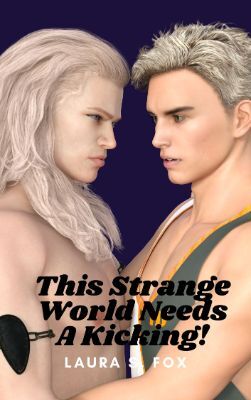 User Feedback
Newsletter

You probably have a crazy and hectic schedule and find it hard to keep up with everything going on.  We get it, because we feel it too.  Signing up here is a great way to keep in touch and find something relaxing to read when you get a few moments to spare.

Sign Up