Join For Free and Get Notified of New Chapters!

Are you enjoying a great story and want to get an alert or email when a new chapter is posted? Join now for free and follow your favorite stories and authors!  You can even choose to get daily or weekly digest emails instead of getting flooded with an email for each story you follow. 

 
There are currently no reviews.
It's been nearly two weeks since Keith kissed him, and Shiro hasn't managed to find time alone with his friend ever since. But he's not going to put pressure on Keith, because Keith trusts him.
And after all, they're just kissing.
Fanfiction for -  Voltron: Legendary Defender
You need no background at all to enjoy this story (I promise) the only vaguely pertinent information you need is that this is set in the future and that these guys all attend a place called the Galaxy Garrison where they are training to be astronauts. You don't need to have watched the show.
Copyright © 2020 Sasha Distan; All Rights Reserved.
Promising Author

03/07/2020

(Updated: 03/07/2020)

5,440 Words
2,896 Views
0 Comments
Story Recommendations (2 members)
Action Packed

0

Addictive/Pacing

1

Characters

1

Chills

0

Cliffhanger

0

Compelling

0

Feel-Good

0

Humor

0

Smoldering

2

Tearjerker

0

Unique

1

World Building

1
---
4
Story Cover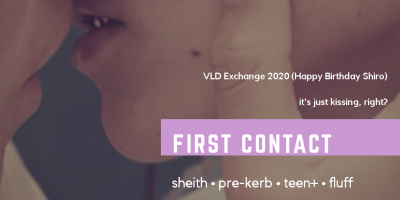 User Feedback
There are no reviews to display.
Newsletter

You probably have a crazy and hectic schedule and find it hard to keep up with everything going on.  We get it, because we feel it too.  Signing up here is a great way to keep in touch and find something relaxing to read when you get a few moments to spare.

Sign Up