I Hate This Town
The plan was simple: survive high school and get the hell out of his hometown. 
Alec Kennedy failed miserably.
He fell in love. Unfortunately, he still carried out his plan and left town. Leaving his first love behind.
Years later, Alec's forced to return home to deal with an unexpected family emergency.
There was a new plan: desperately try to avoid his former partner.
He failed miserably again.
There seems to be a pattern here.
The main character struggles with mental health issues, namely anxiety.
Copyright © 2022 Demiurge; All Rights Reserved.
Author

01/23/2022

(Updated: 11/03/2022)

130,396 Words
130,263 Views
834 Comments
Story Recommendations (19 members)
Action Packed

7

Addictive/Pacing

13

Characters

19

Chills

7

Cliffhanger

1

Compelling

14

Feel-Good

5

Humor

3

Smoldering

6

Tearjerker

9

Unique

10

World Building

4
---
9

24
Story Cover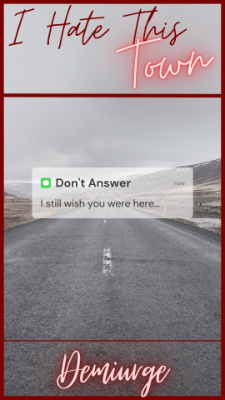 User Feedback
Newsletter

You probably have a crazy and hectic schedule and find it hard to keep up with everything going on.  We get it, because we feel it too.  Signing up here is a great way to keep in touch and find something relaxing to read when you get a few moments to spare.

Sign Up