Join For Free and Get Notified of New Chapters!

Are you enjoying a great story and want to get an alert or email when a new chapter is posted? Join now for free and follow your favorite stories and authors!  You can even choose to get daily or weekly digest emails instead of getting flooded with an email for each story you follow. 

 
Maddog & The Pope (Learning to fly on Broken Wings)
There are currently no reviews.
Two boys from totally different backgrounds. Two different and equally dramatic histories. Two testing struggles. A tempestuous love affair in a provincial German town. Narrow-minded middle-class attitudes, venomous and hypocritical Catholic morality, archaic, harsh foreign prejudices. Street Art rebellion and a society basking in a false sense of security, ignoring the largest future natural disaster and the threat of war.
The book opens with two introductions and continues through a tumultuous series of events to a not quite inevitable conclusion!
©Copyright 2022, Georgie D'Hainaut; All Rights Reserved eserved.
Author

11/19/2022

(Updated: 11/30/2022)

31,344 Words
3,825 Views
26 Comments
Story Recommendations
Action Packed

0

Addictive/Pacing

0

Characters

0

Chills

0

Cliffhanger

0

Compelling

0

Feel-Good

0

Humor

0

Smoldering

0

Tearjerker

0

Unique

0

World Building

0
---
2
Story Cover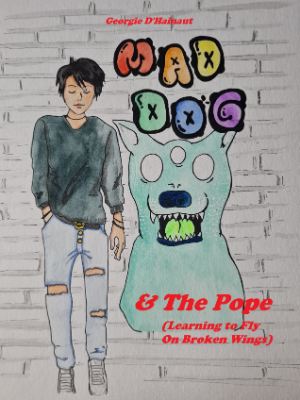 User Feedback
Newsletter

You probably have a crazy and hectic schedule and find it hard to keep up with everything going on.  We get it, because we feel it too.  Signing up here is a great way to keep in touch and find something relaxing to read when you get a few moments to spare.

Sign Up