Join For Free and Get Notified of New Chapters!

Are you enjoying a great story and want to get an alert or email when a new chapter is posted? Join now for free and follow your favorite stories and authors!  You can even choose to get daily or weekly digest emails instead of getting flooded with an email for each story you follow. 

 

Delicious - 1. Delicious
This is for prompt 447 The Gift.
The Gift – prompt 447
A story by Tim Landon
DELICIOUS
I woke, pleased it was Saturday. I leaned back against the warmth behind me. Faris and I had made love the previous night, but my heart hadn't really been in it. I felt I owed him something debauched. Reaching behind me I was hunting for Faris' delicious bits, when I heard something in the doorway.
"James why are you groping the dog?" Faris grinned at me, a deep laugh shaking the coffee cups on the tray he held.
I squeaked and turned over. There was Larry our chocolate lab, giving me that famous doggy smile. I sat up, "Oh for Pete's sake. Get off Larry." No wonder he was smiling!
"Shove up, lazy." Faris pushed his firm ass against my thigh, sitting on the bed. He handed me a cup of coffee. After sipping his, he placed his cup on the bedside table. "How are you feeling this morning?"
"Fine baby – why don't you … um… come back to bed?" I gave him my sexy over-the-top-of-the-coffee-cup look; batting my eyelashes his way.
Chuckling, Faris took my cup and put it next to his. Turning to me, he pressed his soft lips to mine, my arms snaked around his neck. He pushed me back and settled himself on top, his kisses and hardness telling me how much he loved me.
After several minutes of delicious kisses, Faris sat up. I couldn't hold my disappointed groan. "What? Did I do something?"
"No baby. But there's a party." Faris likes to make me ask for details. He could never just tell you the whole story.
Accustomed to this after our two years together, I asked him what he was talking about. "What party? When?" I thought I'd squeeze in two questions at the same time. One can dream, can't one?
Before he could answer I sneezed, then coughed. Damn!
"Dia leat." Faris reached out to feel my forehead. "You don't feel hot."
I looked at my boyfriend. "Since you're here in Canada, you just say bless you."
I saw the slight irritation that crossed his face. "My sincere apologies for being Scottish!"
I didn't want to fight. I handed him his coffee and took mine. "So whose party is it?"
"It's at George and Di's."
Di was Faris' sister and George her husband. They were nice people.
"Why are they having a party?" I wasn't sure I wanted to go, I was feeling crappy but I had been for a few days.
"They want to?" Faris was being stubborn and sarcastic; a lovely combo.
I sighed. "Okay what time and do we have to bring anything? That is if you want to go."
"Of course we're going!" Faris' voice went up an octave and his eyes flashed.
"Ooookay." I sipped my coffee. "And?"
"Look James I know you're not feeling well. But we are going."
"Oh, that's you being a Scottish lord then, is it?" He was starting to get on my nerves. I wanted a shower.
"If you like, you're the passive one."
"Oh piss off, Faris. Go to your bloody party. I'm going for a shower." I squeezed past him and stalked to the bathroom. I slammed the door, and leaned against it. Shit! Shit, shit, shit. I flung open the door and stomped back to the bedroom.
"Faris, I want to tell you something …." I stopped. He was on his feet and wrapped me in his lovely strong arms. I am such a sucker.
"What's that my bonny prince James?" He kissed my neck.
Oh bugger it, I gave into those kisses. "Let's not fight okay?"
Then his lips were on mine again, his hard plumbers hands on my ass, he ground himself against me. I groaned. He kissed my neck, nibbled my ears and mumbled something into my collarbone.
"What? What did you say?" I took a step back.
"Well we have to bring something homemade."
Seriously? Now he's telling me this? "What? What homemade thing?"
"James, come on you're a good cook, you can make something."
"What time is this party? What time is it now?"
Faris glanced at the clock on the bedside table. "It's almost one o'clock."
"And when do we have to be there?" I loved Faris but sometimes, he could try the patience of a saint.
"Three."
"Three! Like in two pissing hours, Faris?" I was nearly hopping up and down.
"Well how long does it take to make Sheppard's Pie?" His blue eyes peeked from under his black hair – filled with innocence.
Horror swept through me. "You didn't promise that did you? Tell me you didn't. Faris?"
"I might have."
"Might have? Did you or didn't you?"
Faris looked smug. "I did. Enough for ten."
"TEN? Ten? You're serious right. Ten?" Oh god that's like ten pounds of potatoes and about same of meat – then the onions, carrots and gravy.
"Well yes, there's going to be a few people there."
My heart thudded in panic. "You need to go to the store for the stuff… ingredients. And we'll be pissing late, Faris."
"Calm down, James."
"Calm? Calm down?" I wanted to slap that beautiful face.
He took my hand and kissed my cheek. Tugging me, I had no choice but to follow him to the kitchen. All the pots were out on the stove; steam pouring from them. I could smell … nothing.
"It's all in hand, James. You shower. I'll start to mash the potatoes and drain the meat. Simple." Faris rubbed his hands together. "Oh there is one other thing."
Did I want to know? "Ok."
"We need to bring a gift."
I'm sure I had a fever. "Faris." I swallowed. "Faris. When were you going to tell me that tidbit?"
"I just did."
James stay calm. "Ok, you mash and I'll shower. I'll come back and help you make four Sheppard's Pies. Then we need to go and get a gift."
Faris' accented voice reached me as I started down the hall. "James."
I stopped. There could not be anything else. There just couldn't be. Slowly I turned around. "Yes, Faris."
Damn him, he was giggling. "The gift. It has to be homemade."
I sneezed and coughed. I looked at him and shook my head and went to shower.
Hot water cascaded over me. I washed and as I rinsed my hair I tried to think of something homemade I could make to bring with us. I decided I would head to the craft box, such as it was, once I was dry.
Bending over to turn off the water, I heard the curtain being pulled back. I turned and looked at Faris. He was smirking. "Nice ass."
"Oh no, too late for you buddy, we have crafts to make." I wrapped the towel around my waist. He took my hand as I stepped over the side of the tub. "Thank you."
After drying myself, and pulling on sweats I arrived in the kitchen. I don't know how, but there were four perfect Sheppard's Pies on the counter. Faris leaned on the fridge, arms crossed. "Will they do?"
I looked at them. Potatoes were mashed and a design raked on the top with a fork. They would crisp and brown beautifully. Smiling at him, I kissed him. "Thank you."
He grabbed my hand again and pulled me into our living-room. On the table was a vase we never used, filled with pieces of blue glass and some silk flowers and ivy. They were perfect. I looked at him. "The gift?"
He nodded. I noticed he'd changed into a black casual suit and white crew neck shirt. "Are we dressing for this party?"
"Come with me to our chambre, my sexy sickie." Faris said in a French accent. We walked down the hall hand-in-hand.
On the bed were my charcoal suit and turquoise shirt. Faris also presented me with two aspirin and some water. He helped me dress and then we loaded the car. After giving Larry a snack and his Kong, we left for the party.
My drugs had started to work by the time we arrived. We wandered around and spoke to our friends.
Di finally asked for silence and called us all to the living-room. "We asked everyone to bring a gift. So for fun we've put them all in brown bags and every couple gets to pick one. Mary you go first."
There was lots of laughter and oohs and ahs, as people opened the silly gifts. I could only shake my head when Peter and Don got our offering.
Don held up the vase and said, "Hey, didn't we give this to you?"
Faris glanced at me and we all started to laugh. Peter said, something about it being a homing vase.
Finally Di told Faris to pick one of the last two gifts. I wanted the big one, but Faris brought us the other. "Here James, you open it, baby."
I took it and pulled the red silky bow off the brown bag. I reached in and pulled out … plane tickets? I looked at him and then at Di. "What?" I opened them, two tickets to St Maarten. What the hell?
Then Faris was speaking. "James."
"Faris, what is ...?"
"James. Will you marry me?"
I reached out and wiped away the diamond tears running down Faris' face. I had no doubts when I answered, "Yes. Yes, Faris, I love you."
He flung his arms around me and kissed me soundly. All our friends applauded and offered their congratulations and best wishes.
We celebrated with our friends and family for another hour, and then I drove us home.
Faris held me against him as we waited for Larry to come back in from our back garden. "Now my sweet, I'm going to take you to bed and show you the difference between me and Larry."
We walked down the hall laughing. "I know what it is Faris. Larry is much less sarcastic."
Faris smiled and shut the bedroom door. Larry sat on the other side – grinning.
C'est fini.
This is for prompt 447 The Gift.
Copyright © 2017 Mikiesboy; All Rights Reserved.
45

3
Story Discussion Topic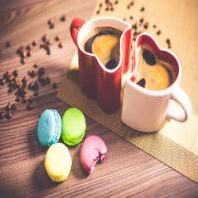 Open Club · 40 members · Last active
A fan club for Mikiesboy to chat about his stories as well as home to the Drop In Centre Chat Topic
---
Chapter Comments
Newsletter

You probably have a crazy and hectic schedule and find it hard to keep up with everything going on.  We get it, because we feel it too.  Signing up here is a great way to keep in touch and find something relaxing to read when you get a few moments to spare.

Sign Up