Join For Free and Get Notified of New Chapters!

Are you enjoying a great story and want to get an alert or email when a new chapter is posted? Join now for free and follow your favorite stories and authors!  You can even choose to get daily or weekly digest emails instead of getting flooded with an email for each story you follow. 

 

Stories posted in this category are works of fiction. Names, places, characters, events, and incidents are created by the authors' imaginations or are used fictitiously. Any resemblances to actual persons (living or dead), organizations, companies, events, or locales are entirely coincidental.
Only Prompts - 28. Rainbow Waffles
Written for Pride. Inspired by Renee's contest.
It was Sunday, and we were still in bed. It was nice to be lazy. I turned onto my right side and snuggled up against my big, sexy boyfriend. 
"Love? I don't know if you can hear that, but I'm hungry." 
I moved my left hand and rubbed Jake's flat, furry, and growly belly. "Mmm, yeah, I can hear that. Want me to cook some breakfast?" 
He smiled and slipped an arm around me. "Mmm, food sounds perfect. But I want some waffles." 
I closed my eyes as his sweet lips met mine. Personally, at that moment, food was not topping the to-do list. 
"I'll tell you what, love. We'll shower and dress and head to Barnaby's for brunch." 
Barnaby's was an old-fashioned restaurant that served excellent food. Their Sunday brunch was known throughout the area. 
"We'll never get in there, Bear. It's always so packed." 
Jake smiled and kissed me again. "Well, then. It's just your luck that I love you because I made reservations two weeks ago." 
"What?" I sat up. "Why?" 
Pulling his bulk up, he continued to grin, "It's the start of Pride and our six-month anniversary." 
"Oh, so it is." 
"Yeah. And brunch is how you celebrate that." 
"Is it now?" I swung my legs over the side of the bed and got up. "What time is the reservation?" 
"It's for eleven." 
"We have time to shower together then." I leered at him. 
Grabbing my hand, Jake led me to the bathroom. He hugged me and whispered, "You're such a bad, bad boy. Now, let's get a move on."
Henry McKenzie, the manager at Barnaby's led us to our table. "Would you gentlemen care for coffee?"
My lovely Bear said, "Yes, thanks and a carafe of orange juice?"
"Certainly. We have rainbow waffles today, by the way. I know you're a waffle man." Henry grinned. "It's nice to see you here, Jake. Enjoy your meal."
Jake smiled as we both said, thank you.
"Do you know him, Bear?"
"Yes, I went to school with Henry. He's a nice guy. When I first came out, Henry was one of very few that treated me the same way."
That tugged at my heart. "Did you have a hard time? Like with your family too?"
Jake stared down at his coffee. He added a teaspoon of sugar and stirred. After several minutes he returned my gaze. "Yeah. I did have a hard time with my mother and my friends. Dad. He saved me. He brought me into the real estate business, and then he left my mom and got custody of me."
My jaw dropped. I had no idea that Jake had suffered so much to be who he is.
My man added a second teaspoon of sugar to his coffee. Finally, he looked back at me. "The kids at school called me all the usual things. I expected that. It stopped when I went to college. But my mom … my mother, that was so much harder to take."
"Jake … we don't need to talk about this, not today. Unless you want to."
He shook his head no. "I don't want to spoil this for us, love." He was quiet for a moment, then looked at me and blinked. "We should go get some food."
As I started to rise, he grasped my forearm. "Wait … Promise me, Connor."
"Promise what?"
"Promise you won't leave me."
I looked into his eyes. "I promise. Jake, I love you."
He nodded and got to his feet. Holding my hand, he led me through the tables to the buffet. We chatted together as we waited in line.
"I don't know how you have the nerve to bring that … here." A voice came from behind Jake. "I'd heard the Davis place was bought by fags, didn't know it was you."
Jake stiffened and turned slowly. His grip on my hand tightened. "What is your problem, Bill?"
"You are, you fu—"
"That's enough, Billy." Henry appeared out of nowhere. Later I'd remember him as an angel from on high.
"You're welcome to eat here at Barnaby's. It's a family restaurant. There is no caveat on the word family."
The manager continued, "We are part of this community. And this community is made up of all creeds, colours, genders, sizes and shapes. You're all welcome to eat, meet, share and enjoy. If you take issue with this, please feel free to take your custom elsewhere. That goes for anyone here."
Billy glared at me, Jake and Henry, and then bashed and pushed his way past people and tables as he made his way out of the dining room.
Henry watched him go, and then he smiled. "Now, let's all eat and enjoy! And since it's the first weekend of Pride Month, we're offering ten percent off your bill!"
Pockets of applause had started and spread. I don't think it was all for the discount either.
Jake's grip on my hand lessened somewhat, but I didn't let go.
Henry clapped a hand on each of our shoulders. "Now, you two. Eat. Relax and enjoy. Your food is on us today."
"Henry, this wasn't your fault. You don't need to do this."
"No, I guess we don't, Jake, but we'd just like to." After a final smile, Henry left us.
I watched my big Bear eat the waffles he'd waited for. "Good?"
"Yeah. Good."
Afterward, we sat enjoying our coffee when an older man stopped by our table.
"You two run that garden place out by 5th Line, right?"
Jake smiled. "We do."
"Good. It's needed. I don't like to drive into Peterborough. So, you can count on my custom." He stuck out his hand.
Jake shook it.
"You did good today. Life's too short to hate." He nodded and walked toward the door. "Good to meet you, boys."
We replied in kind.
And then Jake leaned over and kissed my cheek. "Come on, let's go home."
the end
Thanks to my editor and very dear friend @mollyhousemouse and to my friend @Wayne Gray for reading.   Thanks to you who choose to read, like and /or comment. i hope Pride was enjoyable for you all.
Copyright © 2017 Mikiesboy; All Rights Reserved.
2

16
Stories posted in this category are works of fiction. Names, places, characters, events, and incidents are created by the authors' imaginations or are used fictitiously. Any resemblances to actual persons (living or dead), organizations, companies, events, or locales are entirely coincidental.
Story Discussion Topic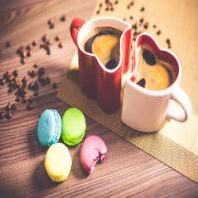 Open Club · 53 members · Last active
A fan club for Mikiesboy to chat about his stories as well as home to the Drop In Centre Chat Topic
---
You are not currently following this story. Be sure to follow to keep up to date with new chapters.
Chapter Comments
Newsletter

You probably have a crazy and hectic schedule and find it hard to keep up with everything going on.  We get it, because we feel it too.  Signing up here is a great way to keep in touch and find something relaxing to read when you get a few moments to spare.

Sign Up