Join For Free and Get Notified of New Chapters!

Are you enjoying a great story and want to get an alert or email when a new chapter is posted? Join now for free and follow your favorite stories and authors!  You can even choose to get daily or weekly digest emails instead of getting flooded with an email for each story you follow. 

 

tim's Bits and Pieces - 58. The Moon Poems
The Moon Poems
1.
It's been a constant,
each month of my life
It waxes, wanes and
is full, new and blue
And I childishly believed,
the Man in the Moon
ate the cheese.
2.
In the very early of the morning
The skies are thick with shades of
grey
I wonder if o'er the felted sky
The moon still shines as bright?
3.
We walk together you and I
Under the cold and moonlit sky
Our hands clasped
Hearts as one
The moon's cool brilliance lights our path
while around us dark forests shun its glow
Their moody shadows await our misstep
ready to swallow us should we stray
4.
Bright moonlight illuminates the path I walk
It leads to our sweet meeting place
Where we'd hold each other and gently kiss
And I'd delight in your strong embrace
Summer's cool evening breezes found us
Sharing wine, bread and cheeses; hard
Our laughter could be heard o'er the glen
and echoed softly in the old churchyard
When the harvest moon, its light did share
We'd meet and then, after a glass or two
O'er this tidy, rolling path we'd wander
Marveling at the orb's, glorious, orange hue
Most winter nights were never clear
And the moon's soft, reflected glow
Would lighten the grey, woolen skies
As arm-in-arm we walked below
Now full circle, has our life come
This path, again, I walk on my own
Above, the moon is full and bright
But March winds chill me to the bone
The moon aloft is my only company
While I add fresh flowers before your stone
I'm lonely, my heart hitches and I know
Soon you'll no longer reside here alone
You and I will have eternity together
Fulfilling the promises, we each had made
We'll stroll this path forever and always
Under the moon's brilliant cascade.
                     ***
Thanks for reading and for your likes and comments.
Copyright © 2018 Mikiesboy; All Rights Reserved.
3

18
Story Discussion Topic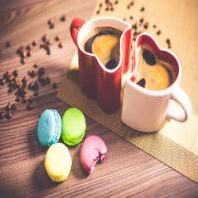 Open Club · 47 members · Last active
A fan club for Mikiesboy to chat about his stories as well as home to the Drop In Centre Chat Topic
---
You are not currently following this story. Be sure to follow to keep up to date with new chapters.
Chapter Comments
Newsletter

You probably have a crazy and hectic schedule and find it hard to keep up with everything going on.  We get it, because we feel it too.  Signing up here is a great way to keep in touch and find something relaxing to read when you get a few moments to spare.

Sign Up