Join For Free and Get Notified of New Chapters!

Are you enjoying a great story and want to get an alert or email when a new chapter is posted? Join now for free and follow your favorite stories and authors!  You can even choose to get daily or weekly digest emails instead of getting flooded with an email for each story you follow. 

 

Headstall's Reflections - 31. Chapter 31 Poetry Prompt 15-Free Verse- Storm Battle
Standing our ground. It's what we humans do because Mother Nature demands it of us. And how do we thank her?
Headstall's Reflections
Chapter 31 Storm Dance
Thunder rumbles faintly in the distance
And golden sunshine starts to falter
Clouds from nowhere toy with magical beams
Like the slow flickering of an old projector
Until all efforts of her glow are strangled
And she retreats from view
Nature speaks, and emits a roar
Moving ever closer to the little farm
Brilliant flashes warn of the impending visit
Winds gust and make roof metal shriek
Splats of rain begin their tap
And frozen pellets bounce at will
Creating a deafening crescendo
In mere heartbeats, fast and furious
Inside, the house protests in stubborn defiance
Standing its ground as the gale arrives
Full of electrical energy designed to destroy
Giving everything it has to clear the landscape
Cleanse us interlopers who scar the earth
The challenge is met by buildings who refuse to budge
Timbers quivering against the mother's onslaught
But giving not an inch in staunch refusal
Passing her test, her search for weakness
Frustrated, or maybe pleased, she backs off
The noise moves on toward new opponents
With dark clouds taking the lead
Drenching deluge peters out to scattered pearls
Lit up by the sun leaving its hiding spot in the heavens
Caressing and healing once again
The little homestead stands proud amongst the puddles
And melting ice
And Mother Nature accepts her rebuke
For now
A far away roar gives warning
She'll be back
To remind us of her power
And of her benevolence
When will we learn to respect nature, and her infinite glory. She is what makes us strong with her challenges, and if we don't stop hurting her, she may well wipe us from this earth.
Copyright © 2017 Headstall; All Rights Reserved.
5
Story Discussion Topic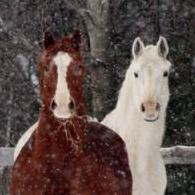 Open Club · 75 members · Last active
A fan club for Headstall to chat about his stories as well as home to CoTT House of Cards Chat Topic
---
Chapter Comments
Newsletter

You probably have a crazy and hectic schedule and find it hard to keep up with everything going on.  We get it, because we feel it too.  Signing up here is a great way to keep in touch and find something relaxing to read when you get a few moments to spare.

Sign Up