Join For Free and Get Notified of New Chapters!

Are you enjoying a great story and want to get an alert or email when a new chapter is posted? Join now for free and follow your favorite stories and authors!  You can even choose to get daily or weekly digest emails instead of getting flooded with an email for each story you follow. 

 

Headstall's Reflections - 66. Chapter 66 Happy Birthday, Mom
My mother is always on my mind as February approaches. Here is a collection of tanka poems to honor her memory.
*
Happy Birthday, Mom
My mother's birthday
Is only a memory
Held by her children
Yet I believe young angels
Seek guidance from her wisdom
How often I speak
When no mortal is present
But my words have aim
And your answers do arrive
Though you are no longer here
You gave me your looks
Commented on by many
But better than that
You taught me about values
And the secret to your strength
Another child is coming
That will not feel your embrace
But no matter Mom
For it will feel you through me
And I will tell your story
You lived your life well
Despite odds stacked against you
With beauty and brains
You conquered brutality
And left injustice behind
In February
I will light candles for you
In celebration
There will be no fireworks
Simply time with old photos
Many years have passed
Since your bright light flickered out
But you never left
And when I need you the most
I feel you within my heart
Flawed?—Maybe that's true
But you followed your heart's want
So where is the blame?
Certainly not from this son
Who has always seen your truth
*
Whether our moms are here or long gone, we can not overlook what they do for their children. I learned so much from mine, and I will miss her for my lifetime and beyond. Thanks for reading.

Copyright © 2017 Headstall; All Rights Reserved.
Story Discussion Topic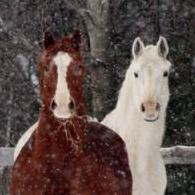 Open Club · 81 members · Last active
A fan club for Headstall to chat about his stories as well as home to CoTT House of Cards Chat Topic
---
Chapter Comments
Newsletter

You probably have a crazy and hectic schedule and find it hard to keep up with everything going on.  We get it, because we feel it too.  Signing up here is a great way to keep in touch and find something relaxing to read when you get a few moments to spare.

Sign Up