Join For Free and Get Notified of New Chapters!

Are you enjoying a great story and want to get an alert or email when a new chapter is posted? Join now for free and follow your favorite stories and authors!  You can even choose to get daily or weekly digest emails instead of getting flooded with an email for each story you follow. 

 

Headstall's Reflections - 79. Chapter 79 Robins and Spiders and Cats, Oh My!
I haven't written any tanka in a while. Robins are the kings and queens of my lawns....
                                                                                                                                                                                         ***
Robins and Spiders and Cats, Oh My!
Audacious
The temerity
of the robin's close landing
sets tail a-twitching
from the feline in waiting
who contemplates more failure
The Tease
The dare is issued
with head high and tail flicking,
a challenge from the redbreast
who bravely hops within reach
of uncertain crouching beast
Disdain
I am not immune
to avian attitude
or the baleful glares
when my tractor encroaches
on feathered family tree
Her Realm
Questions in Nature
oft require patient approach,
for time has not hands
in this evolving, magic realm
where secrets are hers to sigh
Overcoming Childish Fear
I hate you, spider
yet I carry you gently
in flimsy tissue
as I fight trepidation
you will attack me when freed
*
Thanks for reading. I can't believe July is only a couple of days away.... Let me know your thoughts if you enjoyed these. Cheers!
Copyright © 2017 Headstall; All Rights Reserved.
2

12
Story Discussion Topic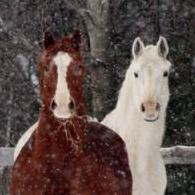 Open Club · 81 members · Last active
A fan club for Headstall to chat about his stories as well as home to CoTT House of Cards Chat Topic
---
Chapter Comments
Newsletter

You probably have a crazy and hectic schedule and find it hard to keep up with everything going on.  We get it, because we feel it too.  Signing up here is a great way to keep in touch and find something relaxing to read when you get a few moments to spare.

Sign Up