Join For Free and Get Notified of New Chapters!

Are you enjoying a great story and want to get an alert or email when a new chapter is posted? Join now for free and follow your favorite stories and authors!  You can even choose to get daily or weekly digest emails instead of getting flooded with an email for each story you follow. 

 

Headstall's Reflections - 62. Chapter 62 Empty Ruins and Chores
Juxtaposition. From one day to the next.
                                                                                                                                                                   *
Empty Ruins
I tread uncertain among the ruins
Searching my mind's ether
Seeking but not finding
The key to timely peace
Maybe it's not within me
Instead an end to some great quest
Might there be no key at all
Only wishes on withered prayers
Would there was a handbook
And no, the bible holds naught help
For I find scant solace there
In pious cants to fetter reason
Today I have no answers
Yet lack the will to question
This feeling I am lost
As I stumble among my ruins
Chores
In my chores I do find purpose
A reason to stir and rise
Sometimes greeted by the sun
As the weakened darkness dies
A nicker sounds each morning
Both a hello and demand
I answer with 'hold on, girl'
Her wish is my command
Fresh water, hay and grain
My duty to my queen
A wither rub while chewing
The sound of it serene
Cats curl and mewl around my feet
Saying enough time spent on her
Their bowls need my attention
And my ministrations they demur
So begins another day
As I walk around my farm
Cataloging my next chores
With the goal to do no harm
Yes, here there is my purpose
A routine filled with life
These animals, they need me
With good fortune, I am rife
*
Thanks for reading.

Copyright © 2017 Headstall; All Rights Reserved.
7

4
Story Discussion Topic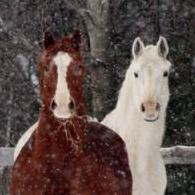 Open Club · 77 members · Last active
A fan club for Headstall to chat about his stories as well as home to CoTT House of Cards Chat Topic
---
Chapter Comments
Newsletter

You probably have a crazy and hectic schedule and find it hard to keep up with everything going on.  We get it, because we feel it too.  Signing up here is a great way to keep in touch and find something relaxing to read when you get a few moments to spare.

Sign Up