Join For Free and Get Notified of New Chapters!

Are you enjoying a great story and want to get an alert or email when a new chapter is posted? Join now for free and follow your favorite stories and authors!  You can even choose to get daily or weekly digest emails instead of getting flooded with an email for each story you follow. 

 

Headstall's Reflections - 61. Chapter 61 Charity and Waking
Headstall's Reflections
Chapter 61 Charity
One foot placed
In front of the other
While we consider the sorrow
Of a mourning mother
It changes the perspective
Of our own irks
To see exactly where
Real devastation lurks
In a world gone mad
We must learn to cope
Count our blessings
And hold onto hope
While carnage reigns
And children die
We could sit back
And question why
Life gives
And Life takes
With floods and fire
And heartless quakes
We could watch in silence
From behind our walls
Dull our senses
And ignore desperate calls
Or put our faith
In love and charity
And trust good hearts
Are not a rarity
We are infinitesimal
When Nature roars
Wreaking pure havoc
While settling scores
So send out prayers
For our fellow man
And please reach out
In any way you can
It just might help
You sleep at night
That you can help
Another soul's plight
Waking
Sunshine finds its way
through the cracks
Enough
to lighten my room
Another morning
filled with blacks
After tossing and turning
In my tomb
Incessant chittering
of a raccoon
A lament
from the stand of cedar
Perhaps annoyed
night ended too soon
Scant time
to defeat my feeder
A truck rumbles by,
silencing all sound
The day shift
is underway
My lonely night ship
Has run aground
Casting me out
on my new feet of clay
The human spirit
is astounding
In its capacity
to handle pain
Even while our hearts
take a pounding
We can still embrace
the rain
No preaching... no message... just poetry

Copyright © 2017 Headstall; All Rights Reserved.
8

6
Story Discussion Topic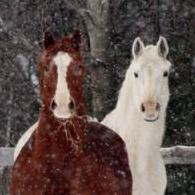 Open Club · 77 members · Last active
A fan club for Headstall to chat about his stories as well as home to CoTT House of Cards Chat Topic
---
Chapter Comments
Newsletter

You probably have a crazy and hectic schedule and find it hard to keep up with everything going on.  We get it, because we feel it too.  Signing up here is a great way to keep in touch and find something relaxing to read when you get a few moments to spare.

Sign Up