Join For Free and Get Notified of New Chapters!

Are you enjoying a great story and want to get an alert or email when a new chapter is posted? Join now for free and follow your favorite stories and authors!  You can even choose to get daily or weekly digest emails instead of getting flooded with an email for each story you follow. 

 

Headstall's Reflections - 17. Chapter 17- Prompt 5- Rhyming Couplets- Love Amongst the Trees
On a recent bike ride, I saw a beautiful sight, at exactly the right time. Two different type of trees were twisted around one another... both mature, and both healthy. It gave me pause. I guess we could call this poem a little silly, but, for me, there is a message here... just like there was for me on the day I finally took notice.
Headstall's Reflections
Chapter 17- Prompt 5- Love Amongst the Trees
For years I have pedaled blindly past
Up a hill I always traverse fast
Never glimpsing the affair amongst the brush
Until a flattened tire meant I couldn't rush
I see you now along the fence line
As my feet trudge up the shady incline
I have to stop and watch you sway
I feel meant to spy you on this day
Majestic you are, as you've reached your height
But what speaks to me is who holds you tight
Grey trunk around brown it shares your space
Entwined together in mutual embrace
Are you aware of who holds you tight
Does he give you solace in the night
Do you part your branches to give him sun
Or is this some battle that must be won
Did you encourage this coupled life
Or did he encroach to cause you strife
As strapping saplings did a battle rage
Or was it love that set the stage
I prefer to think you are lovers blessed
And only together are you at your best
Two shades of green now inter-meshed
In rooted commitment you choose to nest
As his leaves brush yours, do you feel a caress
If he weren't there would you be something less
Is together just a matter of circumstance
Or is something else behind your dance
I'd like to believe love has no confines
And this is why, around you he winds
There's no earthly reason to get in the way
Of any love standing proud in the light of day
Copyright © 2017 Headstall; All Rights Reserved.
12
Story Discussion Topic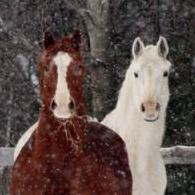 Open Club · 83 members · Last active
A fan club for Headstall to chat about his stories as well as home to CoTT House of Cards Chat Topic
---
Chapter Comments
Newsletter

You probably have a crazy and hectic schedule and find it hard to keep up with everything going on.  We get it, because we feel it too.  Signing up here is a great way to keep in touch and find something relaxing to read when you get a few moments to spare.

Sign Up