Join For Free and Get Notified of New Chapters!

Are you enjoying a great story and want to get an alert or email when a new chapter is posted? Join now for free and follow your favorite stories and authors!  You can even choose to get daily or weekly digest emails instead of getting flooded with an email for each story you follow. 

 

Headstall's Reflections - 36. Chapter 36 Old Girl
Old girl is not meant to be disrespectful. I called my mom that affectionately when she was alive. I also called my old grey mare that, which my mom and I joked about. I was shopping a couple of weeks ago, and I saw this old girl... it was a gift for the season...
Reflections
Chapter 36 Old Girl
The old girl relies heavily on a shopping cart
Her resemblance to my mother stirring my heart
With a backward glance I continue on my way
Her presence affecting me more than I can say
A measuring cup and a baking pan
And oven mitts that fit a man's hand
I load my cart as I navigate the aisles
Why do mere feet seem like they're miles?
Turning the corner I see her once more
Struggling to get past some cartons on the floor
In the middle of a crowd she looks so forlorn
Not the first time I seen such confusion worn
Bless her, she gets her cart turned around
And disappears down a different avenue found
Wavering, I look for Christmas bells for my house
And maybe some traps for my war with a mouse
We meet again in the long line for the cash
Dodging the rush as people make their dash
Surprised to see one lone item procured
It seems such a shame for all she's endured
I suggest she sits and I'll put her item with mine
But she says kindly that she's doing fine
Even her voice has the same laughing lilt
And for a second it puts my world on a tilt
It's rather uncanny, how much she invokes
With the little giggle I inevitably coax
I know who she's not, but she shouldn't be alone
And I'm ready to ask if there's a friend I can phone
Such relief when another lady appears next to us
And takes old girl's arm with nary a fuss
It was only a brief exchange in a busy store
But it gave me my mom for a few minutes more
I miss you, Mom. Merry Christmas.
Copyright © 2017 Headstall; All Rights Reserved.
17
Story Discussion Topic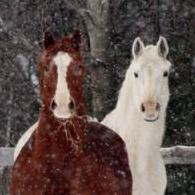 Open Club · 75 members · Last active
A fan club for Headstall to chat about his stories as well as home to CoTT House of Cards Chat Topic
---
Chapter Comments
Newsletter

You probably have a crazy and hectic schedule and find it hard to keep up with everything going on.  We get it, because we feel it too.  Signing up here is a great way to keep in touch and find something relaxing to read when you get a few moments to spare.

Sign Up