Join For Free and Get Notified of New Chapters!

Are you enjoying a great story and want to get an alert or email when a new chapter is posted? Join now for free and follow your favorite stories and authors!  You can even choose to get daily or weekly digest emails instead of getting flooded with an email for each story you follow. 

 

Headstall's Reflections - 83. Chapter 83 My Hands
It's been a while since I've wanted to share some poetry...
                                                                                                                                                          ***
My Hands
Bare knuckles have sunk into the flesh of creeps
Informing them there is no pushover here
Yet my fingertips have grazed the skin of angels
Eliciting responses still swirling in a timely fog
Sinews and veins stand out as proof of a lifetime
Satisfying my need to create with deft strokes
Whether on canvas, in the earth, or under a horse
Strength gained from hammering steel into shoes
These hands have built for me, a world of my own
They have shown my heart in their caresses
And my determination in besting challenges
All while punctuating the things I have to say
My hands, they are all these things and more
And even today they are scraped from honest toil
But no longer appear as the hands of my youth
For what I see now are the hands of an old man
Tracing the ridged scar running from thumb to wrist
I try to flex the finger that doesn't bend as it should
Noticing how crinkled skin depicts a roadmap to nowhere
But I still see all the places they've been… I see my life in them….
*
Thanks for reading this little poem. I hope you all are staying safe. Cheers!
Copyright © 2017 Headstall; All Rights Reserved.
Story Discussion Topic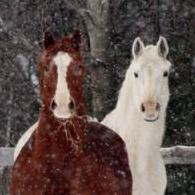 Open Club · 75 members · Last active
A fan club for Headstall to chat about his stories as well as home to CoTT House of Cards Chat Topic
---
Chapter Comments
Newsletter

You probably have a crazy and hectic schedule and find it hard to keep up with everything going on.  We get it, because we feel it too.  Signing up here is a great way to keep in touch and find something relaxing to read when you get a few moments to spare.

Sign Up