Join For Free and Get Notified of New Chapters!

Are you enjoying a great story and want to get an alert or email when a new chapter is posted? Join now for free and follow your favorite stories and authors!  You can even choose to get daily or weekly digest emails instead of getting flooded with an email for each story you follow. 

 

Headstall's Reflections - 85. Chapter 85 Here I Be
Here I Be
Here I be
Morose in my bed
Just me and my dog
Uneasy about looking forward
And reluctant to look back
My gaze trapped by the ceiling
A blanket of cold, suffocating white
Of which I am well acquainted
As with each imperfection hidden
How did I get here?
Alone in this room
Alone in this house
Alone in this life
Littered by mistakes I've made
They hide in all the corners
But I can see each one
As they mock me
I pretended they were smart choices
Products of now questionable wisdom
And the need to protect a heart
That has been battered anyway
At my own hand
By my own regrets
Stupid man
To take the safe path
Leading not where you truly wished
So here I be
Sprawled in my bed
With tears brimming and sliding
Some dampen the sheets
While others are wiped away
With a well-practiced motion
As one makes one's bed
So one finds it
So here I be
Unwilling to look forward
Afraid of what's to come
Exhausted by looking back
And terrified of being trapped
In memories that blister my callouses
There is anguish in either direction
No better than the emptiness
My life has chosen for its home
So here I be
Just me and my dog
*
What is life without regrets? I wouldn't know.... Thanks for reading. Oh, and I'm fine. This just happens to be my first poetry in ages. Cheers!
Copyright © 2017 Headstall; All Rights Reserved.
1

12
Story Discussion Topic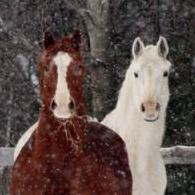 Open Club · 83 members · Last active
A fan club for Headstall to chat about his stories as well as home to CoTT House of Cards Chat Topic
---
Chapter Comments
Newsletter

You probably have a crazy and hectic schedule and find it hard to keep up with everything going on.  We get it, because we feel it too.  Signing up here is a great way to keep in touch and find something relaxing to read when you get a few moments to spare.

Sign Up