Join For Free and Get Notified of New Chapters!

Are you enjoying a great story and want to get an alert or email when a new chapter is posted? Join now for free and follow your favorite stories and authors!  You can even choose to get daily or weekly digest emails instead of getting flooded with an email for each story you follow. 

 

Headstall's Reflections - 43. Chapter 43 Pieces Left Behind
Why I don't ever want to leave this farm....
Headstall's Reflections
Chapter 43 Pieces Left Behind
There's an old basketball hoop
Above the garage doors
With peeling orange paint
Bent from the weight
Of exuberant slam dunks
An old feed tub sits
In the corner of an unused stall
Holding up hockey sticks
Both tall and short and in between
Some broken, some whole
A piece of tattered green
From an ancient vinyl tarp
Still roped to a tree trunk
A fluttering remnant
Of a daughter's magic fort
Four names carved
Into silvered barn board
Almost hidden by vines
Child-like scrawls
Two feet from the ground
Graves of favored pets
Cats, dogs, budgies, a turtle
Under the canopy of maples
A holy place to my children still
Its occupants treasured for all time
Everywhere—everywhere I gaze
Memories and scattered pictures
I can hear the laughter
The squeals and the barks
And peace washes over me
Children grow up
And they find their own ways
As it should be
They may disappear for a time
But they leave some pieces behind
I can be lonely, yes
But how can I truly be alone
When I can trace their lives and mine
From the old sneaker in the tree
To all the smiles bestowed upon my heart
Life moves on, but memories don't....
Copyright © 2017 Headstall; All Rights Reserved.
14
Story Discussion Topic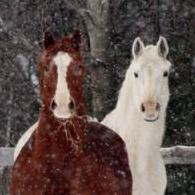 Open Club · 75 members · Last active
A fan club for Headstall to chat about his stories as well as home to CoTT House of Cards Chat Topic
---
Chapter Comments
Newsletter

You probably have a crazy and hectic schedule and find it hard to keep up with everything going on.  We get it, because we feel it too.  Signing up here is a great way to keep in touch and find something relaxing to read when you get a few moments to spare.

Sign Up